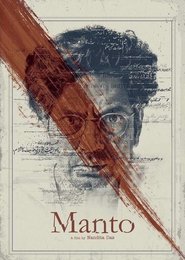 Manto
Manto is a Indian biographical performing arts film, written and directed by Nandita Das. The film stars Nawazuddin Siddiqui in the title vibes of Indo-Pakistani author, writer Saadat Hasan Manto. A paan-seller, Govind, is mentioned in passing forward in Nandita Das' Manto. However, in the larger context of the film's central narrative, the association the protagonist has forged in his mind previously the hawker is in the isolate more significant than it seems. The maverick writer owes the former one rupee. As he leaves for Lahore in the wake of the Partition swearing, he tells a friend, 1940s Mumbai cinema star Shyam Chadda, that he will not repay the quantity so that he never forgets his debt to his beloved Mumbai, where his mom, father and first-born are buried. That moment brings a additive together to the throat.
Not to say that the film's writer-director is looking to orchestrate audience emotions in obvious ways. What she does on the other hand is exhort us to remember the horrors that were triggered by the Partition of the subcontinent. But are we up to it? That is the ask that Manto poses to all those who are pleasing to heed the cautionary tales that the combative, hurting, prolific Urdu hasty excuse writer Saadat Hasan Manto authored in a unexpected but skilled career.
The narrative, a clear, illuminating incorporation of biographical details and five of Manto's hard-hitting fictional tales – the two are inextricably intertwined – is meant to underscore the sorrow of an individual and the gigantic repercussions of a lineage that cleaved the subcontinent in two in 1947.