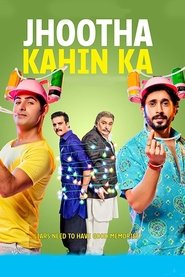 Jhootha Kahin Ka
Two boys go to Mauritius to study and love it so much there, that they are reluctant to return home. Rishi plays Omkar's dad who turns up from the village to surprise him and is in turn surprised by his son's lifestyle.
Jhootha Kahin Ka Synopsis
The story of the film is that of two friends Varun (Omkar Kapoor) and Karan (Sunny Singh), who live in Mauritius. Varun's father Yograj Singh (Rishi Kapoor) is a retired policeman in Punjab who lives with his brother-in-law (Rajesh Sharma) and his wife, but Varun wants to make his own fame in Mauritius itself. There she falls in love with Riya (Nimisha Mehta). To get Nimisha, she plays the role of her orphan, but she gets in trouble when her father Yograj Singh comes along with the entire family as a tenant of the same house in Mauritius, where she is Riya's mother, Interest Mehta. (Lilit Dubey) and Abhiz father (Manoj Joshi). To hide his lies, he tells his friend Karan Riya's husband, but Karan loves Rucha Vaidya. Karan has lied about having his girlfriend Tommy Pandey (Jimmy Shergill) in London, While her brother is in jail in the case of Fraud. Both friends go deep into the swamps of lies.
Duration: 135
Release: 2019
Find out where to watch movies and tv series legally online with tvguideprime, the streaming search engine.
Latest Movies and TV Shows, series and all seasons online at tvguideprime.com. Now you can watch trailers online, read movie reviews, know about star cast and TV Shows.