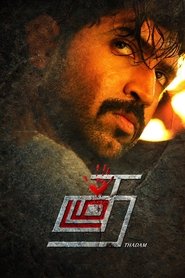 Thadam
The murder of a youngster creates confusion among a few cops when they find out that the one accused in the crime has a look-alike!
Thadam IN CINEMAS NOW
Thadam is in the cinemas right now. Thadam was released on 2019 in cinemas in . Above, you can book your cinema tickets in cinema near you in one click. Get your cinema tickets for Thadam now! Thadam is a 2019 Action, Crime, Thriller Movie.It is directed by Magizh Thirumeni . The film stars Arun VijayFefsi VijayanGeorge MariyanMeera KrishnanSmruthi VenkatSonia AgarwalTanya HopeVidhya PradeepYogi Babu in role.
Views: 16
Genre: Action, Crime, Thriller
Director: Magizh Thirumeni
Actors: Arun Vijay, Fefsi Vijayan, George Mariyan, Meera Krishnan, Smruthi Venkat, Sonia Agarwal, Tanya Hope, Vidhya Pradeep, Yogi Babu
Duration: 138
Release: 2019