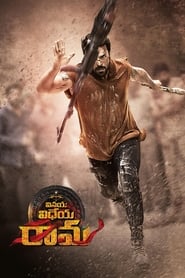 Vinaya Vidheya Rama
Ram is one among the five orphaned boys in Visakhapatnam, adopted by a doctor who ensures them a roof to live under, with dignity. Ram goes to any extent to protect his family and he's a handful for the baddie to handle in a time of crisis. How does Ram protect his family when they need him the most?
Vinaya Vidheya Rama IN CINEMAS NOW
Vinaya Vidheya Rama is in the cinemas right now. Vinaya Vidheya Rama was released on 2019 in cinemas in . Above, you can book your cinema tickets in cinema near you in one click. Get your cinema tickets for Vinaya Vidheya Rama now! Vinaya Vidheya Rama is a 2019 Action, Drama Movie.It is directed by Bandi RameshBoyapati SrinuRavi Nandipati . The film stars Aryan RajeshChalapathi RaoHimajaKiara AdvaniMadhumithaPrashanth ThyagarajanRam CharanRavi VarmaSnehaVivek Oberoi in role.
Views: 557
Director: Bandi Ramesh, Boyapati Srinu, Ravi Nandipati
Actors: Aryan Rajesh, Chalapathi Rao, Himaja, Kiara Advani, Madhumitha, Prashanth Thyagarajan, Ram Charan, Ravi Varma, Sneha, Vivek Oberoi
Duration: 146
Release: 2019